Celtic Dog Names

Your Pal Will Like These One Of A Kind Names
Choosing Celtic dog names for your pooch offers you the perfect opportunity to be creative and distinctive. Choosing to give your pal a Celtic title will allow you to enjoy a little history in the naming process.
Celtic monikers are very pretty, and quite unique. They seem to just roll off the tongue, effortlessly. For this reason, more and more owners are choosing these great titles for their pets. Other owners choose them for the pooch to carry on traditions or to highlight their Celtic ancestry and heritage of their pets or themselves. Regardless of your reasons for choosing one of these for your buddy, below you will find several great ones to choose from.
Our Male & Female Celtic Dog Names
Suggestions and List...
sponsored links
sponsored links
Ardra: Meaning noble, Ardra is a unique Celtic puppy name for your regal pet. This girl is smart and refined, and will make it her mission to make the lives of those around her very comfortable, as long as she is appreciated. A warm, caring dog deserves this choice.
Blayne: This identifier is perfect for the slender puppy you have at home. Blayne is warm, with a happy disposition and often shows confidence beyond his years. A cool choice for the canine that shines in various situations.
Cary: Cary is a cute Celtic dog name for the shy girl dog. This pooch is very sensitive, and you may hurt her feelings and don't even know it. A good selection for the female pooch that is loving and caring, deep down.
Cahal: Choose this identifier for the dog that is strong in battle. This boy is a very good fighter and will not back down easily. This confident boy is larger than life sometimes and is always very brave.
Gitta: This is the perfect pick for the strong girl. Gitta is headstrong, and you will always find her acting first and thinking about it later. This moniker is the perfect fit for the canine that is ever ready to start anew and set off on adventures.
Grannus: The name of the Celtic god of healing, this identifier is perfect for the dog that is therapeutic to your well being. Grannus is considerate and sensitive to the feelings of others. A good selection for the pup that forms deep bonds with family members.

Fallon: Give this Celtic dog name to the pooch that is always in charge. Fallon is an adventurous and energetic pup that is pioneering all types of adventures in the back yard. A cute pick for your courageous female.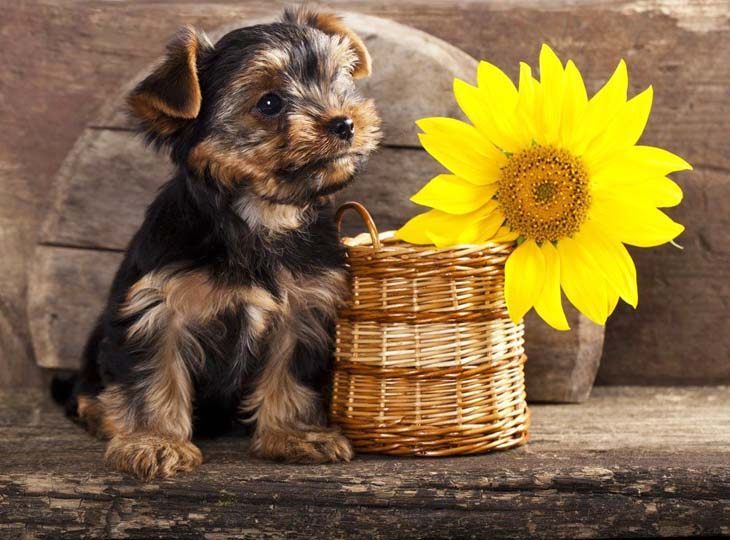 Farrell: Farrell is a cool title for your cute brave boy. This pooch is enthusiastic, confident and very protective. A dynamic and quick-witted pup deserves this choice.
Isolda: Meaning "fair" this Celtic name would make a cute choice for a light coat dog. Isolda does not mind sharing her most precious toys with other children and pets, because she is generous. A cool name for the bighearted pooch that likes to play games.
Keane: Give this moniker to the tall and handsome pal that you just adopted. This male loves to have fun and is full of energy. This is perfect for the dog that is adventurous and sometimes reckless.
Kira: Meaning "dark lady", Kira is a cute Celtic dog name for a dark-colored pooch. This little lady has an active mind and a strong body. Kira is an attention seeker that likes to be in charge and will revert to some form of mischievous activity when she does not get her way.
Neala: This Celtic female pooch name means "The Champion." This makes the identifier suitable for a strong willed female canine. Neala likes to do things her way, and trying to stop her will not normally yield positive results.
O'Malley: Meaning chief, O'Malley is a cute choice for the leader of the pack. This male is generous with his toys and has a vivid, practical imagination.
Taranis: The name of the Celtic thunder god, Taranis is a cool Celtic dog name for a powerful dog. This pooch will stubbornly cling to his pride and will not easily conform or alter his opinions or behavior at the request of others.
| | | |
| --- | --- | --- |
| Abban | Carmel | Kenzie |
| Aberdeen | Cheyne | Lorne |
| Aife | Cody | Nels |
| Ainsel | Conan | Otar |
| Ance | Cullen | Pilbin |
| Angus | Dallas | Reagan |
| Ariel | Delaney | Rosina |
| Artio | Dempsey | Saxen |
| Baine | Deva | Shay |
| Balor | Dunn | Sully |
| Banshee | Fiona | Sloane |
| Barclay | Gael | Sima |
| Baruch | Gower | Umal |
| Binky | Ione | Una |
| Birgit | Keary | Wynda |

Fetch More Great Ideas Here For...



Male Puppies: Good choices for older pals too!
Beautiful Female Names: She'll love these!
Cool Dogs: Not for the geeky pooch
After Your Breed: Match your breed perfectly
Unique Pups: Better than any belly rub



Home

›

Foreign Dog Names

› Celtic Dog Names