Great Dane Names
Unique Names For Your Large Pal
Our long list of Great Dane names is awesome (if we say so ourselves) and suitable for any pooch from this breed. The Great Dane is a breed of gentle giants that is easygoing and mild-mannered. These pooches are loyal, intelligent and very powerful. Charming and affectionate, dogs from this breed are playful and exhibit lots of patience with children.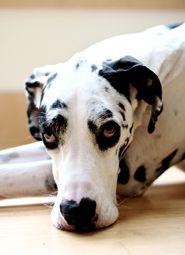 Great Danes love everyone and will be quite sensitive to your voice. Danes are reliable, trustworthy and very dependable. As such, they make courageous and good watchdogs. At times, your dog may be aggressive with other dogs, especially those of the same sex. The males from the breed are also known to be quite mischievous. Therefore, you should choose a name that is gentle, playful and/or energetic.

Our Male And Female Great Dane Names
Angus:
This little boy loves the attention of everyone and often gets into trouble. Known to always be hiding things, his secret place is the first place that you should look when you are missing anything.
*Somewhat similar name ideas: Beefy, T-Bone, Sir Loin
Armond: This big and mighty dog always seems like he has somewhere to go or something to do at all times. Quite friendly and easy to get along with, Armond is loved by children as he listens to them and isn't afraid to join in the fun.


Baltazar: This cute boy is quite friendly and will have you watching him for hours with his comical ways. Baltazar normally does outrageous little things just for you to give him a treat. A good Great Dane name for your entertainer.
Buddy: Always there when you need him, Buddy is your close and friendly companion. This pooch loves to be petted and will show his gratitude by being your friend always.
*Somewhat similar name ideas: Pal, Comrade, Chum
Caesar: Usually seen walking around with his head held high, Caesar knows when something is wrong. Always watching from an angle this boy will know when it is the right time to strike.
*Somewhat similar name ideas: Nero, Julius, Augustus
Dottie: Cute and loving is what Dottie is all about. Give her all the attention she requires and she will be the friendliest pet you can ever have. A good name for a new friend.
Dollar: This pooch likes to parade around the place, as if it owns it. This girl/boy loves to listen. Dollar will comfort you when you're spent and jump around you when you're happy.
*Somewhat similar name ideas: Penny, Peso
Einstein: This creative thinker will always have you wondering what is his next move. This boy is a big genius, and he will overpower you with his large dog affectionate approach.
Ike: This name is for the strong and powerful Great Dane, that will show all the other dogs in the neighborhood who is the boss. Although he is dependable and friendly all the other dogs will just stare as he passes by.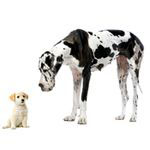 Marbles: The name of the playful girl Marbles is the Great Dane that just won't sit still. This girl loves to go on strolls as long as you are by her side. A good name for the dog that once outside she will run and frolic about.
Mishka: This identifier is for the pretty Great Dane that wants the best that life has to offer. Playful and happy most time she will observe keenly your likes and dislikes so that she won't get on the wrong side of the law.
Peppers: This is the name of a spicy, yet loving female Great Dane. Peppers is one you can count on to keep the house tidy. This girl is sweet mannered, and she will stay in her corner while you are busy and when the time is right she will join you for some fun.
*Somewhat similar name ideas: Spice, Paprika, Salty
Vanilla:This lovely Great Dane name is for the girl that loves to be seen. This pooch is always admired by other dogs in the neighborhood, because she can be summed up in just one word – gentle.
Additional Names For Great Danes…
| | | |
| --- | --- | --- |
|      Aldo |      Fritz |      Stella |
|      Aspen |      Giant |      Stallone |
|      Amber |      Gretta |      Spider |
|      Archie |      Hank |      Skippy |
|      Ballard |      Homer |      Striker |
|      Bojangles |      Ivan |      Storm |
|      Buster |      Kirby |      Serge |
|      Casey |      Lexus |      Petunia |
|      Candy |      Marmaduke |      Quest |
|      Cupcake |      Max |      Raven |
|      Dusty |      Miles |      Rosco |
|      Duke |      Mignon |      Ramsey |
|      Dahlia |      Mason |      Sir Charles |
|      Ebony |      Oscar |      Topaz |
|      Elsa |      Priestly |      Vance |
|      Elvira |      Sky |      Victory |
|      Ferdinand |      Sylvester |      Zeus |
More Great Dane Name Ideas