Cute Girl Puppy Names
Cute Names For Any Breed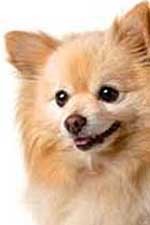 Looking for some cute girl puppy names? We have all the dog names to keep you covered! We know how difficult it is for you to come up with dog names that are both great and cute, that's why we have created this site to help provide you with some guidance in coming up with the cutest name for your baby girl.
In order to help you, we have searched the Internet, books and other puppy publications to come up with our list of cute girl puppy names for you to use. Our list includes funny, unique and even famous name ideas which are some of the best names for dogs out there. We hope you and your pup will find a name that you can both agree on.

Our Cute Girl Puppy Name Lists
Amber:
This golden girl needs lots of space and a variety of people in her life, so she will be missed should she disappear. A great name for the cute girl that has learned the secrets of Houdini.
*
Somewhat similar name ideas: Autumn, Nugget
Avalon: Choose this cute name for the notoriously curious and erratic puppy that is always looking for her dinner. This little pooch loves to savor tasty treats (don't all dogs?) and likes to have her coat cut and styled into the very latest outlandish doggie fashion. A fine choice for a trendy pooch.
*Somewhat similar name ideas: Diva, Paris
Brassy: This name selection is the ideal pick for a brazen dog. Feisty, independent, and a little impulsive at times, Brassy is the puppy that wants to be the first dog to do everything. A great name for the girl that wants it her way and right away.
Brianna: A great name for a great girlfriend! Extremely beautiful and fun to be around, this little lady hates to be kept waiting. A cute name for that furry princess on four legs.
Echo: Echo is a cute girl puppy name for the energizer bunny variety of dogs. This pooch likes chasing cars and other dogs twice her size, so you have to constantly be chasing after her and calling her name. A cute name for the puppy that is in a serious rush to get what she wants.
Eclipse: This cute name selection is perfect for the puppy that overshadows the work of all other dogs. Playing fair and helping out other people and dogs if she can is her main objective. A fine name for the fearless fighter that no other pet can measure up to.
| | | |
| --- | --- | --- |
|      Affinity |      Autumn |      Brie |
|      Akira |      Baby |      Candy |
|      Alexia |      Bambi |      Calamity |
|      Alpine   |      Bandanna |      Casey |
|      Ambrosia |      Beauty |      Cashmere |
|      Amethyst |      Begonia |      Cassie |
|      Anastasia |      Belle |      Catalina |
|      Angel |      Betty |      Cayenne |
|      Aurora |      Bianca |      Cha-cha |
More Girl Names For Puppies
Girly: Choose this name for the puppy that is just an innocent little pup. With this little puppy, you have to wear her out any chance you can if you want to sit back and enjoy the innocent and mellow dog that she is. A terrific name for the puppy that is a delight to have around once she is exhausted.


Karma: Patience might be a virtue, but isn't Karma a fun doggie to have? Although subtlety is not this puppy's strong suit, she is still fun to have. A fine name for the puppy that pounces all over you and covers you with licks. She'll also pounce on any unsuspecting cat if given the chance.
*Somewhat similar name ideas: Patience, Psychic, Pouncer
Peaches: Give this cute girl puppy name to the peachy girl puppy that you have at home. Peaceful, beautiful, and sweet, this puppy is the equal partner for you to do everything with.
Pearl: Pear is a fine name for a white colored dog. This little puppy enjoys going to social events with the beautiful canine élite. A great name for the puppy that loves peace on earth and a luxury life!
*Somewhat similar name ideas: Gem, Opal, Jade
Velvet: A fantastic name for the puppy with a coat so smooth it is almost velvety. This beauty can come in any color, and her main purpose is to charm and compliment you. This little puppy will do everything in her puppy powers just to make you happy.
Venus: Venus is the name for the puppy that you will always come first with. Named after the Roman Goddess of Love, this dog will share hers with you any chance she gets.
*Somewhat similar name ideas: Lover Gurl, Mercury, Neptune, Orbit
| | | |
| --- | --- | --- |
|      Charade |      Hershey |      Liberty |
|      Charlotte |      Jade |      Mackenzie |
|      Charmer |      Jasmine |      Martini |
|      Fancy |      Java |      Meatball |
|      Fantasia |      Juliet |      Misty |
|      Ginger |      Kisses |      Mystic |
|      Giselle |      Lassie |      Rain |
|      Goldie |      Legend |      Rascal |
|      Heidi |      Lambchop |      Reno |
Other Cute Girl Puppy Names